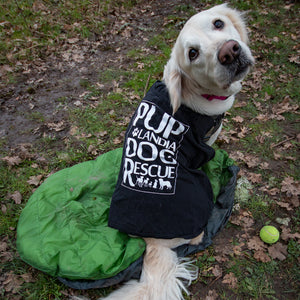 Whyld at Heart - Donate a DoggyBag
Whyld River
Regular price $80.00 Sale
DoggyBag donations will go toward helping pups stay safe and warm even if their human does not have a place to call home. 
Homelessness is very frightening and demoralizing for people, having their best friend around can help to keep them safe and give them a sense of purpose and meaning in their life. 
We work with a local organization called Portland Animal Welfare Team (PAW Team) to ensure that people encountering extreme poverty or homelessness can continue to provide for their best friends even through the most difficult times.
Thank you so much for considering a donation!  You can also donate directly to PAW Team here.
~section 2~
For each donation a DoggyBag or the monetary equivalent is given to Portland Animal Welfare Team (or "PAW Team") here in Portland, OR, USA.  PAW Team keeps pets and people together by providing free veterinary care to the pets of people who are experiencing homelessness or extreme poverty.  
After our Kickstarter campaign we were able to donate $1,500 and 3 DoggyBags to PAW Team!  Your donations go toward not only keeping the pets of people living in poverty or experiencing homelessness warm and safe, the contribution also goes toward veterinary care, medicine, food, and supplies.  
Direct donations help us to give more and are also a great way to give an original gift to an animal lover! 
~section 3~
The Portland Animal Welfare Team (or "PAW Team" for short) does important work by offering free veterinary care, medicine, supplies, and food to the pets of people who are experiencing extreme poverty or homelessness.
A part of each dollar you spend with Whyld River will go toward helping PAW Team to offer these services.  So far we have donated over $1,500 to PAW Team and three DoggyBags, which brought in even more money at auction.  As we grow we will continue to be offer more aid to dogs in need, thanks to your support.
Follow PAW Team on Instagram:
~section 4~
If you have a different organization you would like to donate a DoggyBag to please specify by writing a note during checkout indicating the organization and their address. Please contact support@whyldriver.com if you have any questions or are unable to add a note for any reason to your order.
Physical donations will only be available within the continental US due to shipping costs. 
If you would like to cover shipping please indicate in your note and we will reach out to you to organize shipping donated DoggyBag(s) to the organization of your choice.
Thank you so much for your donation and for supporting Whyld River and dogs in need!